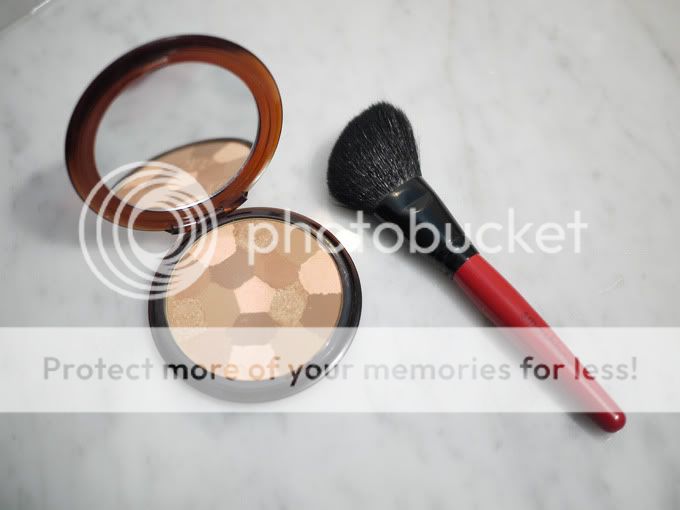 mac mineralize skinfinish in soft&gentle, yves saint laurent eye pencil in 1, anna sui liquid color in 750, makeupforever HD concealer in 315, heroine make long&curl mascara (Japan), guerlain terracotta light sheer bronzing powder in 02 brunettes, smashbox fusion eye&cheek in on in 5, smith's lip balm in minted rose, shiseido aqualabel spf 28
So I've been asked several times to demonstrate my daily make-up routine.. but too be honest I'd probably be too clumsy/awkward in a video so I hope these photos are sufficient until I get over the weirdness of filming a video. Here's what I usually do:
1) apply sunscreen + lip balm
2) concealer under the eyes
3) apply light eyeshadow (not pictured) to the inner corners of my eyes, and then brown shadow on the entire eyelid
4) use small Q-tip like sponge to apply eyeshadow on my lower lashline
5) line my upper eyeline with black eyeliner
6) curl lashes (I often forget this part..) and follow with mascara. Diorshow is my favorite mascara but I just finished the tube.
7) blush to the apples of my cheeks, I prefer coral-y colors. I use the coral strip on the end of the palette from the smashbox fusion.
8) a tiny bit of bronzer in the same area I applied blush, except I blend it out towards my ears
9) a little bit of shimmer on my cheekbones for that glowing skin
10) finishing mist (not pictured), I recommend SANA hadanomy or Caudalie beauty elixir. I've also tried MAC fix+ and it doesn't seem to do much for me.